ACLE 2018 Day 1 Highlights
Bedding In
Trying to quickly get to grips with a market when you are not long off an intercontinental flight is not easy. Even more so when the air is full of threats and counter threats regarding tariff wars between China and America.
Significant and worrying though they may be it would probably be true to say that tariffs should not be the primary concern of travel weary exhibitors on the first day of the 20th All China Leather Fair. It is how both the market place and the consumers have been changing.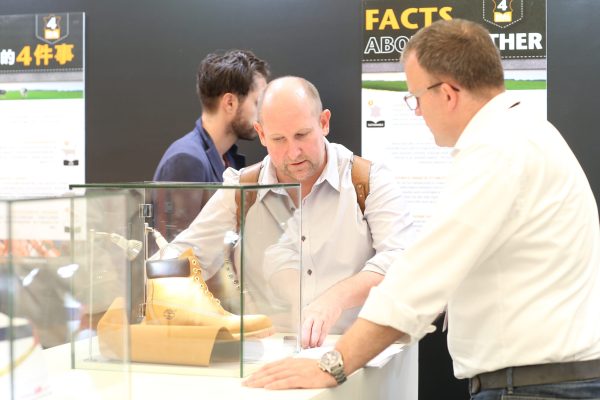 For many designers and consumers leather has not been evolving and has lost its cool, especially with the younger consumers who dominate not only Asia, but the whole globe now. Hopefully the innovative spirit will return to the tanners and the big contingent of chemical companies present can help them realise some more fitting contemporary products.
We heard that the Chinese leather business had a weak first half for 2018, with footwear and garments suffering most.
Generally the feeling of the day is that trade is poor but improving. The CLIA gave some of the reasons for China's poorer performance as including shoemakers moving overseas, steadily increasing environmental demands, difficult exports not just with the US but also in Japan and South Korea and the impact of leather alternates. Certainly in footwear consumers have a huge variety of choices.
The message of the day. Do not take your eye off the customers, as they decide everything; innovate more and promote to fit those consumers rather than your historic perception of the consumers. And to find some of those designers and consumers tanners could well have looked at the Leather Naturally area which was busy all day with seminars and activities largely involving Chinese Generation Y designers.
– By Mike Redwood, Leather Naturally Spokesperson
"The market has changed tremendously since we first participated in ACLE twenty years ago. Today, we have to make more efforts and be more creative than ever in order to keep on. However, ACLE is still the place to be to generate business volume."
– Carles Riba Anto, General Manager, Riba Guixa, Spain

"We have seen the industry go through several cycles since we first participated in ACLE. What has been consistent is that participating in ACLE always means meeting more people in three days than we would in the whole year."
– Sutham Chusoipin, Managing Director, Allied Chemicals International, Thailand