ACLE's 20th Anniversary Spurred by Inspiration
The 2018 edition of the All China Leather Exhibition (ACLE) was marked by a double anniversary.  This year is the 20th anniversary of the fair and it is also the 30th anniversary of the China leather Industry Association (CLIA) founded in 1988 as the only official body for the leather and footwear sectors in China. The CLIA and APLF are co-organisers of the ACLE. 

The exhibition occupied 92,000 square meters with 8 exhibition halls covering the entire leather tanning supply chain from raw materials, chemicals to machineries as well as components and accessories. Over the 3 days, the exhibition received more than 22,300 visitors. When compared with 2017, a 3% increase in buyers was recorded.   

The increase in overall visitor numbers was encouraging and even surprising for some exhibitors. The market backdrop to ACLE 2018 was characterised by ample supplies of leather and raw materials and sagging demand for leather – with the exception of top grade sustainable tanned hides that continue to command premium prices.

As an integral component of the China and Asian leather industry, ACLE reflects the state of the market and functions as a professional business platform where business can be transacted between top manufacturers and tanneries whatever the market conditions.


ACLE 20th Anniversary and Gala Dinner
Among the 1087 exhibitors participating this year, 95 have been exhibiting for almost 20 years, contributing to and benefiting from its success and reputation. One of the loyal exhibitors since 1998 is Pittards from UK.
Brian Topper of AI Topper, the Australian tannery which has been participating in ACLE since 1999, said, "The leather industry has become more interdependent. Participating in ACLE enables to cross fertilise ideas and to make the industry progress."
Over 300 guests, including the exhibitors, buyers, trade associations and media attended the 20th Anniversary Gala Dinner, which was sponsored by USHSLA, CICB, LIA, ACEXPIEL, CNC, and ALPA. "ACLE was founded at a time when China was at the peak of its economic reforms. It was a period when the manufacturing industry was still a labour intensive sector. 20 years on, China has become a dominant global force, and the manufacturing industry is entering the 4th stage of automation. ACLE has witnessed and actually been part of this transformation." Michael Duck, Director of APLF, said in his welcome speech.
Mr. Li Yuzhong, Chairman of China Leather Industry Association, said at the gala dinner, "The next decade will be crucial to the industry, since it will face policy changes, cross-industry cooperation, technological innovation and shift in business model. The whole Chinese leather industry will work together with the global partners to overcome the challenge ahead."
The Shanghai Shake-Up
This year, the fair got underway with the first Shanghai Shake-Up Conference held on August 28th, during which information was shared about how to help the leather industry progress and how to establish it as a sustainable, open minded and forward thinking industry. Three main themes, namely "Streetluxe", "Leather Lab" and "Made to Move" were addressed during the conference and were further featured at the Technological Innovation Trend Forum held inside the fair while no less than 27 potential opportunities to increase the use of leather were suggested by Nicoline Van Enter, Founder and Creative Director, the Footwearists. These were also illustrated by the participating speakers. Setting up collaboration with designers and turning recycled leather into valuable materials are just a few ideas that were shared and discussed.
Leather Naturally Zone
With designers in mind, Leather Naturally (LN), an industry initiative formed by stakeholders in the leather industry, set up the Leather Naturally Zone to inspire and inform designers, creators and consumers about the use, beauty, versatility and sustainability of leather. For the first time a Leather Trend Space was set up in ACLE, attracting a constant flow of visitors who came to get inspiration from the Spring-Summer 2018 colours and leather trends. Ten LN talks were held and three designer workshops were organised for local young footwear, garments and leather goods designers. "Leather Naturally initiative is to promote the beauty, quality and versatility of leather. We are very pleased with the success of the Leather Naturally Zone at ACLE. I would also like to thank the great effort of the organisers in arranging all the seminars, workshops and displays in the Zone to create positive awareness towards Leather." Stated Egbert Dikkers, Chair of Leather Naturally.
The "Leather Reborn" project is part of such initiative which aims at bringing awareness about the beauty and versatility of leather and at engaging with young artists. Three artists from Malaysia were invited to ACLE to express themselves on large hides provided by the Brazilian tannery and Leather Naturally's member JBS. "We want to promote the idea that leather can be inspiring and we are pleased with the outcome. I think this project is a distinctive way of reaching and interacting with consumers," JBS' Fernando Bellese de Cesaro said. Leather Reborn will also be taking place in department stores and fashion trade fairs in key Asian cities.
Meanwhile, CLIA set up the 30th Anniversary Achievement Exhibition, which illustrated how CLIA has contributed to the development of the fast-growing leather industry in China over the last three decades. Visitors could also see Genuine Leather Mark eco-leather samples, and experienced the fun of leather making in workshop area.
Italy at hand
ACLE 2018 was marked by the visit of an Italian delegation led by Professor Michele Geraci, Under Secretary of State for Trade and Foreign Investment (MISE) of the new Italian Government. The expert in Chinese economy and former professor at Zhejiang University, congratulated and encouraged the 21 Italian exhibitors present at the fair.
Despite slower international trade growth, the Italian footwear, leathergoods and tanning machinery industry has delivered yet another positive year.
According to the National Association of Manufacturers of Footwear, Leathergoods and Tanning Technologies (Assomac), in 2017 the total exports of Italian leather and tanning machinery reached 520 million euros of which 33 million are attributed to China. Exports to China have grown 40 per cent year on year, making China the largest importing country of Italian leather goods and tanning machinery.
The government of the recently appointed Prime Minister Giuseppe Conte has made trade and cooperation with China a priority. Its initiative "Task Force China" is meant to strengthen and develop cooperation, dialogue, trade and economic relationships between Italy and China. A strategy that many regions are adopting, and which makes China an unavoidable partner in all industries including leather.
Vietnam delegation also present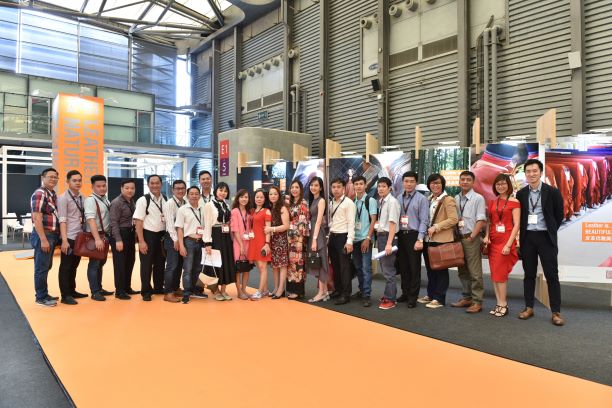 Several other official delegations visited the fair including a group of Vietnamese buyers led by the President of the Hanoi Shoes Leather Association, Pham Hong Viet who said he was impressed by the sheer size of the ACLE fair, its safe and secure environment and the support that was provided by the organisation.  "I made valuable contacts and met potential suppliers to equip our future factory," Pham declared referring to the building of a new factory in Hung Yen, Hanoi's newest industrial area. The huge plant will meet the growing demand for shoe production in Vietnam.  

ACLE will return to its initial timing of beginning of September in 2019. It will be held on 3-5 September 2019.