China's Leather Industry Consolidates
This 21st edition of the All China Leather Exhibition (ACLE) will take place at the New International Expo Centre in Pudong, Shanghai from 29 – 31 August 2018. The event covers a total exhibition area of 92,000 square metres and 8 halls of international and domestic tanneries, machinery and chemical suppliers. 
The exhibitors will display the whole supply chain for the leather and footwear manufacturing industries with a wide array of leathers, components, chemicals and machinery. Many of the world's leading chemical suppliers are present at ACLE and use it as a platform to launch new products and technological developments direct to their target market in China.
As in previous years there will be nearly 20 group pavilions from the leading leather making countries present at the August event, confirming the importance of ACLE as a key business platform to supply China with the raw hides, semi-finished leather that its industry requires to continue functioning as well as the speciality chemicals from the world's leading producers. The whole supply chain for the leather making process can be seen at ACLE.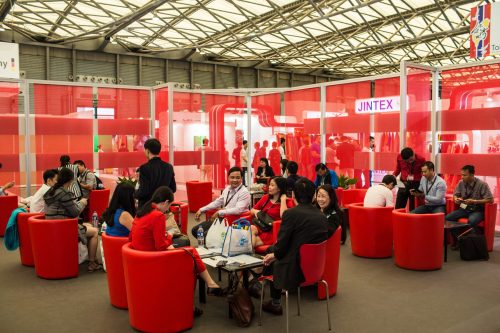 In the last four to five years there have been several negative factors that have impacted China's leather sector. Short term there was the overall clean-up of polluting industries such as textile mills and tanneries which resulted in the closure of smaller tanneries in the northern Chinese province of Hebei but at the same time encouraged investment in waste treatment plants in larger facilities. Then came the overvaluation of leather whose price peaked at around US$110 in September 2014 for benchmark Texas steers which resulted in synthetics taking market share in footwear manufacturing. And thirdly, the emergence of Vietnam (due to lower labour costs) as a rival shoe exporter to China's markets that has wrested market share in major destinations such as the United States. 
However, bad news does not last forever and there are clear signs from the results of China's leather sector in 2017, that the worst is now behind the industry and consolidation is taking place.
The latest China Leather Industry Association (CLIA) report indicates that the slide in the value of Chinese leather exports of all kinds appears to have been halted with total exports for 2017 valued at USD78.7 billion, increasing by 3.11%. Compare this performance to the 2016 figure when overall exports closed at US$76.4 billion, down by 11.3% on 2015. 
Imports of leather and finished products reached US$9.8 billion, increasing by 10.7% indicating that there is growing demand for imported leather of all kinds for manufacturing as well as western manufactured finished products such as quality footwear and leather fashion handbags.
These CLIA figures corroborate the recent report from Bain & Co. on retail demand in the luxury sector by Chinese consumers. Such demand grew by a startling 20%+ in 2017 proving once again that the middle class China consumer with disposable income is still "alive and kicking". Overall retail sales still continue increasing by 10%+ year-on-year far outstripping the performance in the USA or Europe
China needed to import 706,200 tons of semi-finished leather in 2017 worth US$1.46 billion which was a volume increase of 5.5% Finished leather imports for the same period were 116,800 tons with a value of US$2.1 billion but down in volume terms by 12%.  
Leather import figures for China tanneries and finished product manufacture are still huge and illustrate the export opportunities available to western tanneries already working with or prospecting new Chinese customers. ACLE is the ideal business platform where to make contact and negotiate with the decision makers from China's 550 leading tanneries and the footwear factories that manufactured 4.48 billion pairs of leather shoes in 2017 – which was only marginally down on the 2016 figure.
Economic Transition leading to Consolidation
As mentioned in last year's press release, The Honorary Chairman of the CLIA, Su Chaoying, summed up the overall transition taking place in China's economy as follows:. "the move from manufacturing and exports dominating the economy and a focus on the growth of consumer spending has resulted in a continued slowing of China's GDP growth from 6.9% in 2015 to 6.8% in 2016. This year's official target is 6.5%. Nevertheless, the growth engine is gradually shifting to more consumer-driven growth with a constant flow of people moving into the middle classes. Overall consumer spending continues to grow and is extremely buoyant at an annual rate of +10.9%."
To the surprise of many observers and economists the actual GDP growth figure for China's economy for 2017 came in at 6.9% – well above the forecast figure of 6.5% as mentioned by Mr Su Chaoying last year.
With GDP growth gradually being more and more consumer driven, factors such as the already mentioned rise of 20%+ in luxury purchases and the 28.88 million new vehicles sold in 2017, are simply not signs of an economy about to suffer a decline in GDP.
The trend for luxury sales is expected to remain buoyant going into this year whereas vehicle sales are set to consolidate which is hardly surprising when one considers that total vehicles sales in 2008 were just 12 million units compared to 28 million nine years later.
General Backdrop to this year's ACLE
Macroeconomic factors continue to support a positive backdrop to this year's ACLE. For example, the world's major stock index are still trailing not far from the historical highs reached in January. The latest IMF global GDP growth forecast was revised up just two months ago from 3.7% to 3.9% for 2018 and 2019. The North America Free Trade Agreement (NAFTA) looks as if it will be renegotiated rather than weakened by the withdrawal of the US and, last but not least, President Trump's "America First" policy is being implemented.
The aforementioned policy has led the US to impose high import tariffs on steel and aluminum imports in order to protect US industry and the fear is that this could spark retaliatory measures from China leading to a trade war. Even the IMF has warned about the negative impact such unilateral measures might have on world trade. We await further developments in this context.
In terms of the leather industry and its consolidation in China we must not forget that China's trained manpower, superior infrastructure and logistics still make it the main outsourcing destination for footwear and leather goods despite advances being made by low-wage economies in the ASEAN region. 
China's manufacturing capability cannot be replaced by the combined capacity of shoe making and leather goods manufacture of all its Asian competitors and will always have to import raw materials to feed its production lines and for this reason cannot be ignored by western suppliers.
The abundant supply of raw materials available is keeping leather prices under pressure (for example at the time of writing there are still 3.8 million hides sold but not yet shipped in US warehouses); cattle on feed in the US are also up 8% compared to last year and it is difficult to see demand increasing sufficiently to take up this backlog even in the medium term.
Nevertheless, the domination of supply side dynamics could lead to lower raw material price inputs which will help tannery margins. The missing ingredient required to give the whole industry a boost this year is demand from the footwear sector. Synthetics continue to be the preferred materials of designers especially as sneakers are enjoying massive sales worldwide but at some point, as the oil price rises, manufacturers of footwear will have to take into account their raw material costs and by extension protect their profit margins.
ACLE – Business and Information Platform in China
Aa a business platform and meeting place where opinions can be exchanged and information gathered, ACLE is the venue par excellence as the European leather sector gets back into gear after the traditional August vacation break.
ACLE is not the market but is a reflection of what is happening in terms of supply, demand and prices of leather and raw materials. It is an event that cannot be missed and is where companies doing business in China can make new contacts and consolidate business relationships with existing clients.
In this context APLF's partner in organising ACLE, the CLIA, is marshalling a buyers recruitment campaign not only in China but also in the ASEAN countries that will also need to import manufacturing supplies. On a more detailed level, Business Matching Appointments will be set up between exhibitors and purchasing managers during ACLE to ensure that the right mix of buyers and sellers comes together. 
Each year more than 23,000 buyers come to Shanghai from the major manufacturing provinces of China seeking products from the whole supply chain of the leather sector that can be seen at ACLE in its eight domestic and international exhibition halls, and as such remains as the leading event in the industry's trade fair calendar.