Michael Duck, Director of APLF Limited is Optimistic about the Future of China Leather Industry and ACLE
This year has been particularly challenging for the global leather industry with raw material prices declining after APLF ended in mid-March and are not at their lowest levels since the height of the financial crisis in 2008 / 2009. This is due to an overhang of raw material in the pipeline and hesitant global demand for leather, mainly in the footwear sector since early 2015.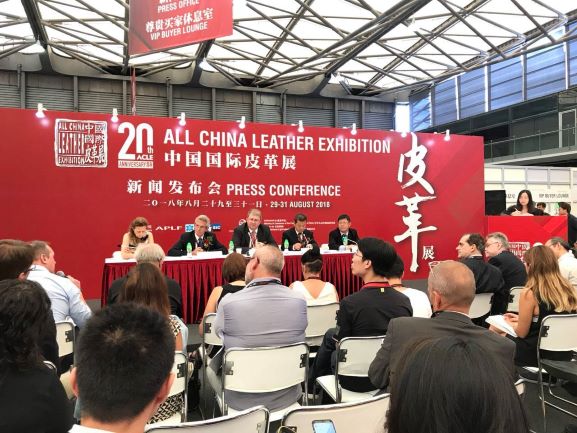 On a global level the "elephant in the room" is the simmering all out trade war between the US and China which will prejudice both manufacturers and consumers especially if 25% tariffs are imposed on finished goods exports to the US and raw material exports to China.
Having said that, other sectors where leather is used are still doing very well – namely the automotive and furniture upholstery sectors. Record car sales were registered in 2017 and this trend is continuing into 2018. Many leading leathergoods manufacturers have been excellent in H1 2018 indicating that there is no let up in consumer demand for well-crafted and designed bags and accessories. The problem is the excess of lower grade material. Some influential market observers believe that this will lead to a two tier leather market of top quality and the rest.
The solution? Obviously a pickup in demand is required and that depends on designers. This year, we have organised 4 designer workshops. As part of their visiting itinerary, Leather Naturally members will also conduct short Talks for them to promote the beauty and versatility of leather to them.
With this conundrum in mind, APLF has also held a major conference named the Shanghai Shake-Up yesterday to suggest and explore fresh applications for leather and effectively give the industry a wake-up call.
In China the environmental clean-up reached its final phase in the northern Hebei province recently with smaller tanneries being closed or expected to be acquired by larger ones that can afford to invest in the environmental technology required by law in tannery zones. The result will be more leather production per tannery and of better sustainable quality making it more attractive to manufacturers and more marketable on the global stage.
From the point of view of the role of ACLE in China – the exhibition has moved with the times and acted as a platform for western innovation into China's leather sector. This year there are around 1,000 exhibitors, and we expect some 23,000 visitors, with 90% of them came from major Chinese tanning provinces. No other leather fair on the planet offers this volume of professional buyers from China under one roof in a concentrated three day period in a professional business-like atmosphere.
In 2017 4.48 billion pairs of leather shoe were produced in China. The industry is aware that there has been a shift of manufacturing to lower wage S.E. Asian nations such as Vietnam, Cambodia and Indonesia but even the combined production of all these countries is still dwarfed by China's logistics, infrastructure, quality control and production.
ACLE is also well-placed to serve the ASEAN nations that are now increasing their manufacturing and participation in the global leather sector and we are actively promoting the fair in these countries that are gradually emerging as a force to be reckoned with – especially in the footwear business – but they all need to source the necessary raw materials. Like last year, a group of Vietnamese manufacturers are visiting ACLE.
Over the years ACLE has become an important platform for chemical companies to launch new products and applications. This year major chemical suppliers such as Lanxess, Sarchem, Smit & zoon, Stahl, TFL, Trumpler and Zschimmer & Schwarz will all be demonstrating innovations on their stands. This is an excellent source of information and opportunity for the media to spread the news about such important technical advances in our industry.