A business and educational platform for the manufacturing sector
n its 22nd year, ACLE, China´s definitive leather event is to be held from 3 – 5 September 2019 at the New International Expo Centre in Pudong, Shanghai. The leather industry continues to labour under low demand and low prices – neither of which are beneficial for tannery production or margins.
The number of hides for tanning continues to grow as a consequence of expanding red meat demand mainly from emerging economies such as China and this will continue to weigh on raw material prices for the foreseeable future.
Major trade fairs have a vital role to play no matter what the state of the industry both as a showcase for the latest technological developments in the sector and as a business platform for consolidating existing client relations, meeting potential customers and for acquiring market intelligence.
At last year's event, for example, the Shanghai Shake-Up Conference was conceived to outline such opportunities and there will be a continuation of this conference at the 2019 event.
This year the subtitle of the Conference is Redesigning a Future for Leather. The leather business is not what it used to be. Consumers focused on casual style and a marketplace full of alternative materials have helped drive the industry to its current slump. This is not a cyclical downturn, however, but rather a disruption of traditional norms in the leather business. The conference, scheduled on 4 September 2019 (day 2) will gather speakers from global tanneries, footwear brands, leather garments and automotive suppliers and designers to discuss the role and function of tanneries of the future.
At ACLE, the Leather Naturally Zone will make a welcome return after a busy three days during the 2018 event. Leather Naturally is the industry initiative to promote the beauty, versatility and usability of leather and the Leather Naturally Zone will be located in Hall E1 where the international tanneries are to be found. This year, Leather Naturally will continue the mission to educate the public, especially emerging designers on how to utilise leather in their designs through various trend areas, workshops, talks and promotion campaigns.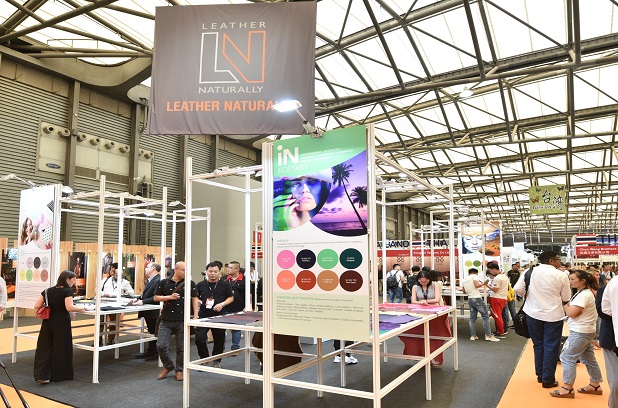 To satisfy the sourcing requirement of the footwear and fashion buyers, alongside but separate from the leather fair will be the first appearance of Materials+ and the 2019/20 Chinese Fall/Winter Leather Fashion Fabric Trends at ACLE. The Organisers have decided to introduce the concept of Materials+ from APLF Hong Kong to Shanghai. Located in Hall E3, the Materials+ Trends Forum display will showcase technological innovations – advanced manufacturing process, technology and materials for the fashion industry, in particular in the footwear sector. The 2019/20 Chinese Fall/Winter Leather Fashion Fabric Trends co-organised by the fair organiser and the China Academy of Art will also be displayed in Hall E4.
To complement the display, a series of seminars will offer audiences insights on how to modernise their manufacturing to embrace Industry 4.0 – the era of automation.