The support given to the leather promotional campaign is likely to prove pivotal in the future of our industry.
The accepted back story of the leather industry is that the supply of leather cannot grow to meet demand because the livestock – bovine, ovine, caprine or porcine – that provide the hides and skins are never kept for making leather, only for meat and milk. Consequently as the global population rises leather has become scarcer and as this continues leather should become more valuable, increasingly moving into luxury segments.
The trouble is, it is not true. Or to be precise it is incomplete. Yet it has taken the conversations in the exhibition halls of the 20th All China Leather Industry for this to be said out loud; and it was from a large Chinese tanner from whom I heard it in simple and clear form, thinking out loud amongst colleagues.
It has been a week of surprises. No one came with high expectations; indeed given President Trump's tariff war games some American hide suppliers decided to stay home and try to interpret the different narratives of the world as America sees it played out on Fox and CNN. They will regret a mistaken decision.
Trade fairs are not defined by the level of business. They cannot change consumer sentiment. They are industry gatherings of stakeholders who need to share knowledge and interpret the trends that are driving their business than they are about selling and self promotion.
Instead of tariffs more of the talk was about the other end of the chain, with consumer demand. In fact one major US supplier explained the impact of duties on a hide is not so big an issue when raw prices have nearly cut in half in recent months. Stories were circulating around that demand for garment leather was so low that one New Zealand supplier was struggling to sell sheepskins at all, and that unsaleable skins were being disposed of in a lake in Indian Kashmir.
"The end of leather"
What links the raw material and the finished products markets are the surprisingly complex global supply chains that exist in the leather industry. The Chinese tanner postulating about leather's long term future argued that the balance of these chains is easily ruptured if one element, such as bovine splits, totally fails to perform. It would not take many such incidents for the network to collapse and to be looking at the "end of leather" was the conclusion.
Inside the show business was being reported as flat year on year, with some small improvements visible. So these pessimistic arguments were more about the emerging long term trends, where the fast move of China from a producer to a consumer nation add to rising Chinese costs and worker shortage to create issues for all leather using industries.
Consequently the move overseas of footwear manufacturing capacity to chase cheaper production and the interruption in some tanning areas caused by the closure or relocation of tanneries for environmental reasons has slowed Chinese leather production although the Chinese Leather Industry Association expect to record an improving second half to this year. "Sales, revenues, profits, exports will maintain a low single-digit growth rate" in 2018 according to the CLIA.
It was noted that while there was actually a modest rise in leather footwear production less was exported, so more was being consumed domestically. This supports the more optimistic forecasting coming from the CLIA where they see new opportunities in an improving global economy and rising populations, including in China where population control has now been abandoned.
This enthusiasm was not matched amidst the stands. While some footwear manufacturers have taken production overseas more have switched to synthetics and show no signs of moving back. It was commented on more than once that the synthetic stands have continued to take more space at the ACLE as the tanners get squeezed. The loss of market share for leather has become more complex with the arrival of stitched textile uppers. This advanced form of production looks likely to have much wider implications than merely sneakers and at the moment leather has no obvious answer to the new world of engineered uppers.
While footwear and clothing are the main current concerns, furniture and automobiles both show long term issues with younger consumers appearing to prefer, or at least to be content with synthetics.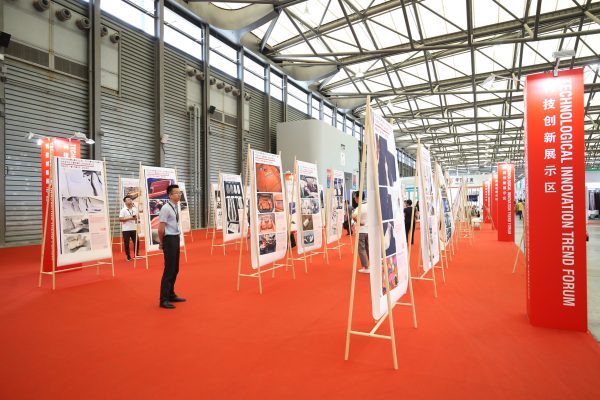 The Technological Innovation Trend Forum displays in Hall 3 highlighted the advances happening with leather and new competitive materials and how they fit with consumer trends. The discussion at the Shanghai Shake-Up Conference suggested that the continued historic approach of tanners promoting old fashioned classic leathers from traditional trade stands was the wrong direction and that new ways of making and promoting leather were required. It was also suggested that tanners should think about working with some of the new materials and not be "too precious about the term leather". And they needed to find new ways of marketing leather to address the issues with many of the Generation Y and Z who do not see leather as cool, and need to be grabbed emotionally if their attitude is to change. Long boring explanations about being a by product will not be enough.
Hence the presentation from Leather Naturally to members and the wider industry was especially timely. It explained the promotional programme they are ready to initiate to specifically target these younger consumers and key industry groups. It was well received and there were many offers of financial support. Sadly none of the senior Chinese tanners were present and the moment was a "western" one. Hopefully this will quickly change as this campaign and the support given to it from all stakeholders in the world leather business is likely to prove pivotal in the future of our industry.