ACLE is the barometer as China's leather sector consolidates
With its 21st edition due to take place in Shanghai from 29 – 31 August, ACLE comes of age as China's leather sector consolidates as the environmental clean-up started three years ago finally culminates.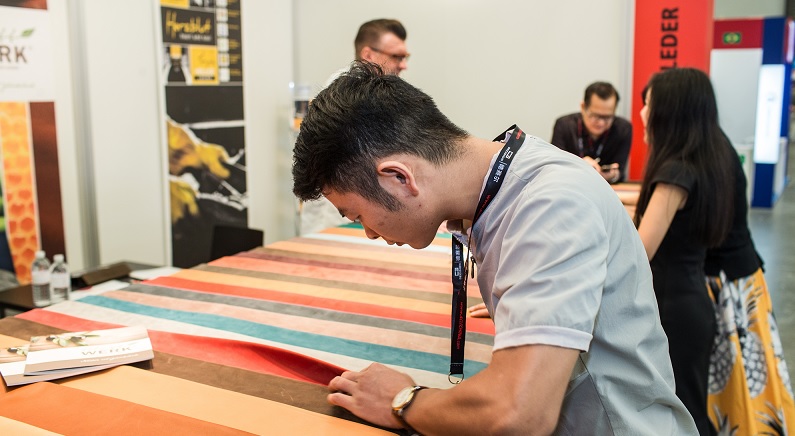 At the moment there are ample supplies of raw materials available for the tanning industry and more in the pipeline with 3.7 million hides sold but not yet shipped in US warehouses and cattle on feed numbers in March some 9% higher than one year ago.
However, such supplies are neither in China nor in the emerging leather sector of the ASEAN nations that are accelerating their progress by taking advantage of their lower labour costs compared to China.
Vietnam, as China's main competitor in the leather footwear sector, has to import 70%+ of the leather it uses. The nearest main sourcing hub where buyers from Vietnam and other nations such as Cambodia can meet international supplies is at ACLE in Shanghai.
For this reason the Organisers of ACLE – APLF Ltd and the China Leather Industry Association (CLIA) – expect buyers from China's leading tanneries as well as tanners from other South East Asian nations requiring stock and semi-finished raw materials to be present at this year's ACLE event.
The CLIA will be promoting the fair not only in China bit also in ASEAN nations that need to import raw materials supplies and require a hub from where to source them.
ACLE acts as a barometer and business platform of the leather sector where supply and demand interact to set ruling commercial prices.
2018 is a special year for China's leather sector and ACLE
This year marks the China Leather Industry Association's (CLIA) 30th anniversary that since its founding has led to great improvements in China's tanning industry, reaching state of the art levels in sustainability standards.
At the same time, it is ACLE's 20th year as the platform where those changes were brought forward and have positioned ACLE as the best showcase of this shift in manufacturing, which, as Manufacturing 4.0, encompasses automation, technological innovations to allow sustainable processes and added efficiency.
This process in China's industry over the last three decades has transformed it from a low cost manufacturing export-driven economy to a technologically advanced and sustainable manufacturing nation driven by demand from the huge domestic market.
Focus still on China
Auto sales continue to boom in China that is by far the world's biggest buyer of new cars. This has encouraged specialist firms such as Adient, Faurecia and Lear that serve the automotive seating industry to set up plants in China.
With more than 24 million new passenger vehicles sold in China in 2017 and some 5 million light trucks and other vehicles this is, historically speaking, the biggest opportunity for auto leather seating that has ever existed.
The strength of the auto market is buoyed by a GDP growth of 6.9% in 2017 and an annualised increase in retail sales of 9.7% far outstripping any other major economy.
Add to this the fact that furniture production in China is aimed at exporting and, according to a survey carried out by Furniture Today at the end of 2017, 29% of salon furniture is upholstered in leather.
And don't forget footwear
Despite progress being made essentially by Vietnam in footwear exports to the US and Europe, China's leather shoe production is still light years ahead of what is produced in Vietnam and the rest of the ASEAN nations put together.
According to the report presented by the CLIA during APLF, China manufactured 4.48 billion pairs of leather shoes in 2017. Vietnam manufactured just a respectable 404 million. In the case of both countries much of this leather in semi-finished form is imported to be finished in local tanneries to feed the production lines.
At the same time there are other key sectors for leather demand that simply cannot be ignored.
Imports needed to feed China's leather sector
In summary, leather imports to China in 2017 were as follows:
Raw hides and skins were 1.25 million tons in quantity and US$2.2 billion in value.
Semi-finished leather imports were 706,200 tons in quantity and US$1.46 billion in value,
Finished leather amounted to 116,800 tons in quantity and US$1.99 billion in value.


Total leather imports by China in 2017 from international suppliers in value were: US$5.68 billion. This is where the export sales opportunity lies for international tanneries wishing to serve the Chinese leather sector with the added bonus of coming into contact with buyers from ASEAN nations at ACLE.
Quality Buyers from China and Overseas
With more than 23,000 buyers attending ACLE each year of which 19,000 originate from the major manufacturing and tanning provinces of China, ACLE is by far the most dynamic business platform available to penetrate the Chinese and ASEAN markets.
ACLE international presence for 2018
The international exhibitors at the Shanghai New International Expo Centre (SNIEC) in Pudong, will be taken by tanners and the world's leading chemical suppliers seeking to consolidate their business in China itself and harvest new contacts for the future.
These companies come from the world's leading tanning nations such as USA, France, Spain, Germany and Brazil amongst others and companies supplying chemicals for the tanning industry will be the most renowned internationally and these often use ACLE as a platform to launch new technologies and products to the China market.
Don't miss this opportunity to participate in China's definitive leather event and expand your business internationally. Contact your local agent or write to [email protected] .