Chen Zhanguang, Secretary General of China Leather Industry Association Reported on the Economic Status of China's Leather, Fur and Leather Goods Industries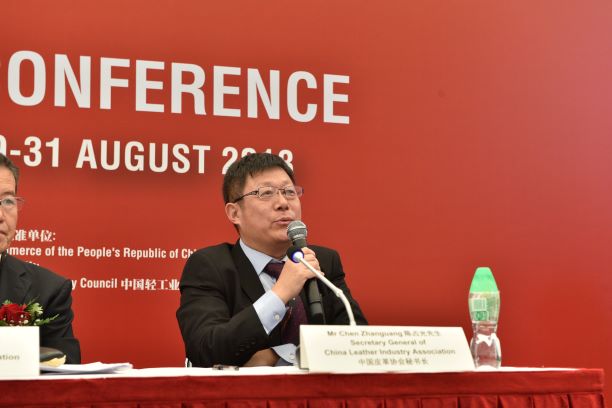 The economic status of China's leather, fur and leather goods industries maintained steady growth but are slowing down in the first half of 2018.
A. Prosperity index slowing down
From January to June, China's light industrial leather prosperity index slowly declined, with a June index of 87.1, down by 2.6 points yoy, and is generally cooling down. Both the sales index and the prosperity index are highly convergent; the profit index has fluctuated this year, to 81.5 in June, temporarily recovering from the cooling off period it experienced. The export index in June was 94.6, at a stable level, 5.2 points lower than last year.
B. Sales revenue and profit slowing down
The sales revenue of these industries, generated by those companies whose annual sales revenue is no less than RMB 20 million or USD 3.0 million, achieved an increase of 4.3% to RMB 576.2 billion or USD 87.1 billion, the growth rate decreased by 2.3% compared to the previous year. The profit is RMB33.4 billion, increased by 4% with a growth rate decreased by 5.1%
C. Output index fluctuated
— Leather: The total quantity of finished leather produced by medium and large sized tanneries in the first half of 2018 was 310 million sqm. decreased by 11.4% when compared to first half of last year.
— Footwear: In the first half of 2018, the quantity of leather shoes produced by medium and large sized manufacturers totalled 2.0 billion pairs with a yoy rise of 3.2%.
— Leather garments: In the first half of 2018, the production of leather garments totalled 32.17 million pieces, a decrease of 0.9% year-on-year.
— Fur garments: In the first half of 2018, the production of fur garments totalled 1.34 million pieces, a decrease of 6% year-on-year.
Future opportunities
China is now going into a rebalancing and post-industrial period. The economy is shifting from export-led, investment-fuelled growth to innovation and consumption-driven growth which brought new opportunities to China's leather industry.
— sustained recovery of the world economy and steady growth of China's economy. The world economy is showing signs of a sustained recovery, and the cyclical recovery of manufacturing is still continuing. Domestic macroeconomic growth is steady, and the quality of growth is constantly improving. The leather industry is expected to get out of this predicament and achieve sustainable development.
— Growing population around the world and in China, especially the repeal of the Two Child policy, will increase the demand of leather products, especially from the Infants sector.
— Growth momentum transformation. The transformation of growth dynamics is accelerating, and new impetus such as consumption, quality, brand, service industry and regional coordinated development are taking shape. The upgrading of domestic market will encourage leather companies to "increase varieties, improve quality, build a brand image", and is conducive to the transformation and upgrading of the leather industry.
— Comprehensive advantages of the industrial supply chain and industrial layout optimization. China's leather industry supply chain is complete and has formed a rapid-responded R&D and supply chain system. At the same time, the continuously optimized industrial plan plays a positive role in integrating resources, improving efficiency and supporting the sustainable development of the industry.
— High level environmental requirements. Enterprises that fail to meet the new environmental requirements are shut down, making the industry more standardized and more competitive.
— Technological innovation brings opportunities for the development of the industry. New technology, new equipment, new materials are constantly introduced into the leather industry. Internet technology continues to promote changes in the production model of the industry, bringing new opportunities for the development of the leather and shoe industry.
— Automotive interiors leather, furniture leather and decorative leather are becoming the pilots of the leather industry.
— Handcrafted products, customization and functional leather are driving the demand for leather.
The challenges in the future
— Factor costs rise while late-developing advantages has weaken
— More relocation of manufacturers, in particular the footwear enterprises to overseas, leading to the transfer of manufacturing base.
— Environmental pressure is increasing. The scope of governance has been expanded and the depth has increased. Laws and regulations have been improving and law enforcement has been stricter.
— Diversification of sales channels. Individualism, fashion-focused and diversification of consumer demand have become the mainstream, which changed how enterprise market their products.
— The environment of foreign trade is vulnerable. The Sino-US trade war has begun, the EU economy is unstable, the Japanese and South Korean economy is still very difficult, and it will take time for emerging markets to open up. All these will have an impact on exports.
— The impact of leather alternatives. With the rapid growth of microfiber synthetic materials, and far more sports and leisure shoes are being consumed than leather shoes, the market share of leather is being squeezed.
Forecast
China's leather industry is expected to continue the recovery momentum in 2018. Sales revenue, profits, exports will maintain a low, single-digit growth rate.
Now I would like to introduce this year's All China Leather Exhibition.
This year's exhibition will occupy 8 halls with an exhibition space of 92,000 sqm, of which 65,000 sqm will be occupied by domestic exhibitors.
This year is the 20th anniversary of ACLE, but also the 30th anniversary of the founding of CLIA. Inside the exhibition, we have set up a 30th anniversary of CLIA achievement exhibition area, where we will also provide visitors a small leather handicraft experience. This year's exhibitors are manufacturers of leather, chemical, synthetic materials, shoe and leather machinery. We further optimize the exhibit structure with automobile leather enterprises such as Bader, Mingxin Xuteng attending; Xingye, Dongming and other eco-leather enterprises have brought better performing products; Lanxess, Decision and other leather chemical enterprises have brought better products to help leather enterprises improve environmental protection levels; Dezhou Xinhuarun and other shoe materials enterprises have brought new biodegradable materials; Emma, Typical and other mechanical enterprises have brought a higher level of intelligence in their new equipment.
Once again, we have organized automotive interior manufacturers, leather furniture manufacturers and a Vietnam buying delegation to the exhibition. At the same time, the exhibition also set up fashion trend space, designer workshops and technological innovation trend forum. These will undoubtedly add new vitality to the exhibition.